Full and Partial Dentures
About Dentures
If you've lost some or all of your teeth, it's important to replace them. Even if just one tooth is lost, your appearance can drastically change as the surrounding teeth drift out of position and change the bite.
If you're missing several teeth, your jaw line loses shape, your lips flatten, your chin protrudes, and wrinkles increase. Fortunately, dentures can help correct these problems. There are several types of dentures available from Universal Dentistry, from partial dentures to complete dentures to implant-supported dentures. Schedule an Appointment today for a consultation so we can explain the available options and determine which is best for you.
We Design & Fabricate Our Dentures
Unlike most offices, we design and fabricate all of our dentures in our own laboratory, thus assuring patients the best combination of comfort and fit as possible. Having 100% quality control is important to our patients because it means our dentists, assistants and denture technicians are able to consult closely with each other during the process. As a result, patients have found the process from impressions through delivery of the denture to be efficient and follow up visits for adjustments to be minimal.
Need An Appointment? Why wait?
See a dentist within 48 hours
Types of Full Dentures
All dentures are not created equally. At Universal Dentistry, we offer three types of full dentures designed to meet every patient's need and budget.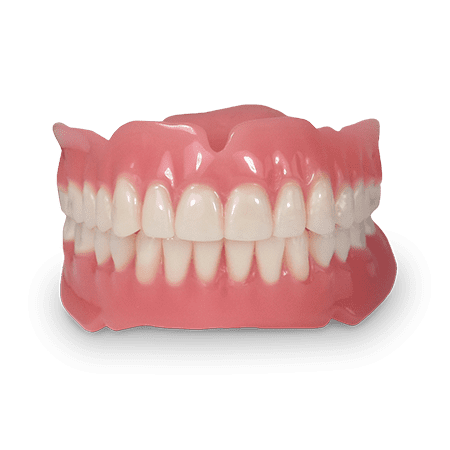 Immediate/Standard Dentures
These temporary dentures provide you with new teeth immediately after your natural teeth have been removed. The denture acts like a band aid and helps healing and gives you teeth while your gums shrink. After several months you will be fitted with a final denture. The dentist will determine the size and shape of the teeth that best fit your profile.
These are our most affordable denture and are often the choice when economy is the critical factor in the patient's decision.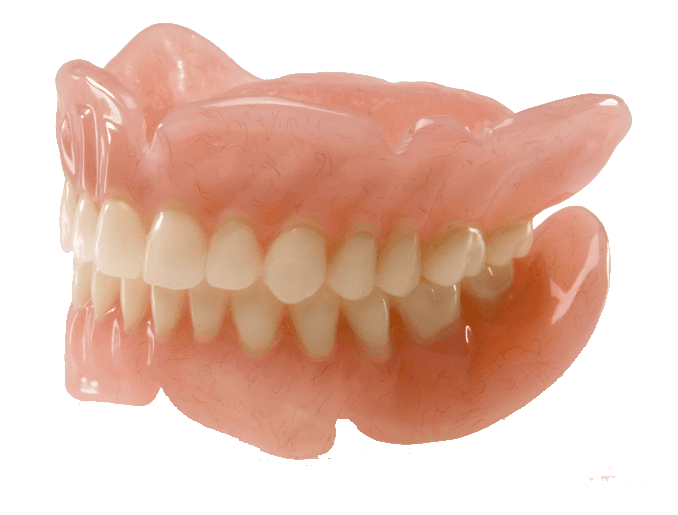 Deluxe Dentures
Our Deluxe Dentures are made with harder, more durable teeth and provide a more natural looking smile than our standard denture.  Patients select minor characteristics that they would like to have customized into their new dentures.  The deluxe denture strikes a balance between quality and affordability and like every denture that we fabricate, it is designed for both fit and comfort in mind.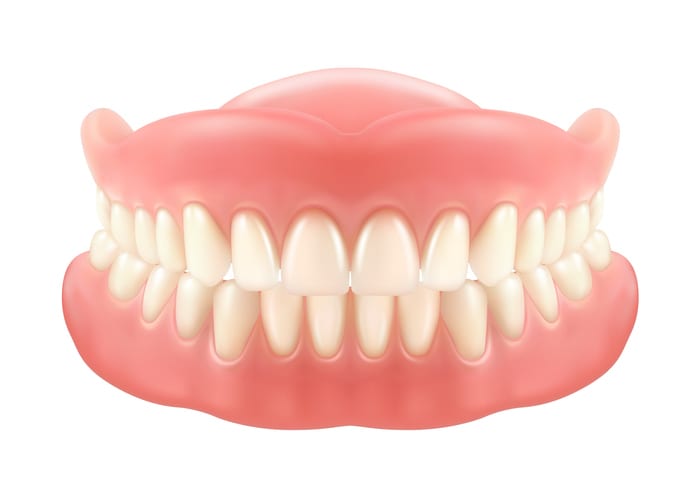 Premium Dentures
These are our highest quality and most natural looking denture.  This denture is made with the best acrylic denture teeth available.  The premium teeth are more durable and are highly resistant to stain.  This denture is for the more discriminating patient who is more particular about his or her appearance.  This denture is fully customizable, and you can select the size, shade, shape and arrangement of your teeth.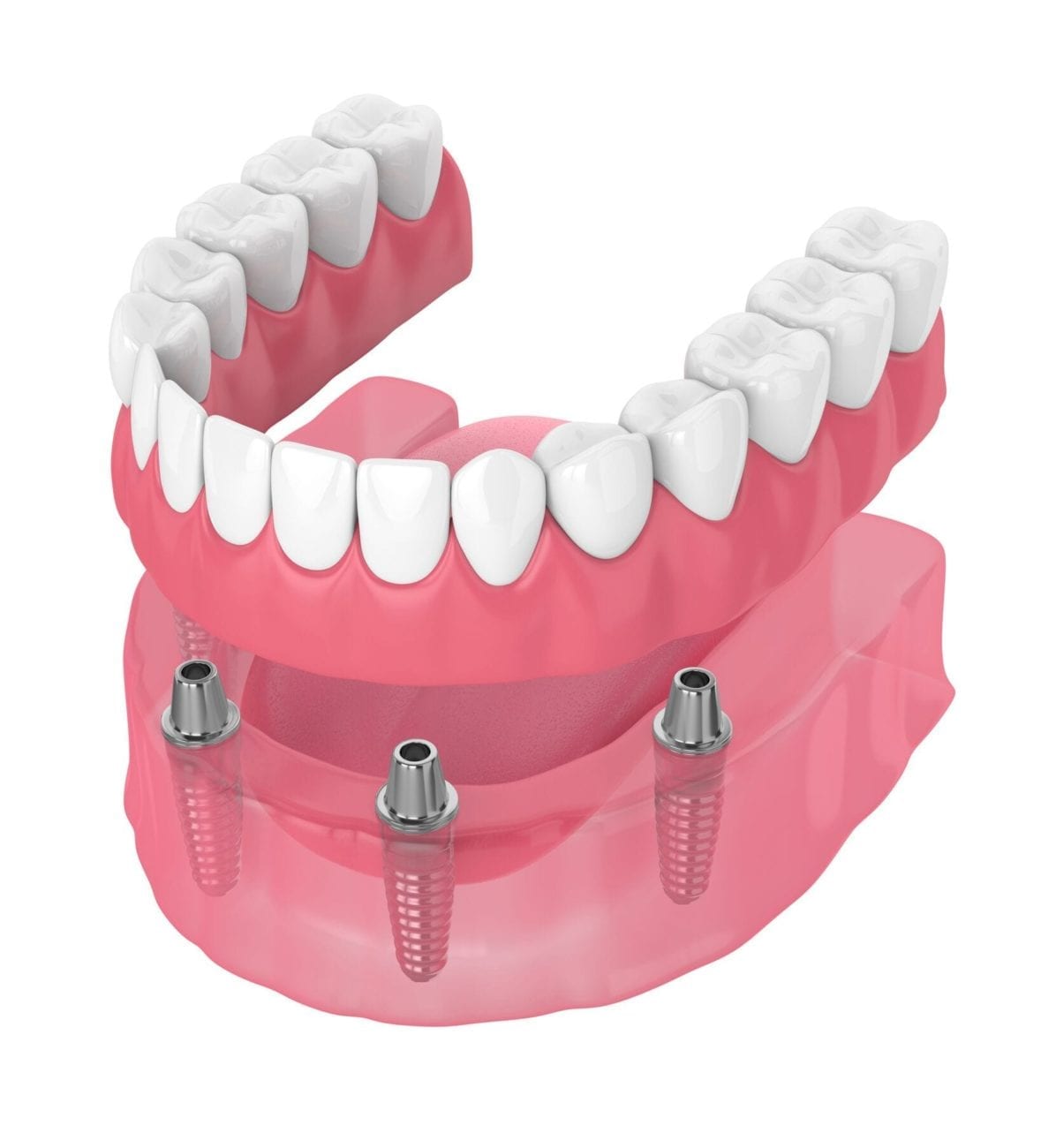 Implant Supported Dentures
Despite dentistry's best efforts, many patients struggle wearing dentures, resorting to messy creams or pastes that only partially secure their dentures. Eating with the dentures is a problem as food gets into the denture paste, the dentures come loose, and chewing is difficult.
Many patients choose to support their denture with denture attachments, small implants that secure the denture to the lower jaw.  This eliminates the need for denture paste, improves patient's chewing ability, and prevents the jaw from shrinking over time, a natural result of tooth extractions. Not all patients are a candidate for denture attachments and the dentist will need to make a clinical decision during your meeting.
Types of Partial Dentures
Learn more about partial dentures designed to meet every patient's need and budget.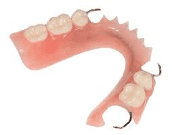 Acrylic Partial
An Acrylic partial denture is designed for patients with multiple missing teeth and is the most affordable partial denture that we offer. This can also be used as a temporary denture as a space maintainer while the gum line heals and while a new, permanent denture is being fabricated. This denture is not necessarily a good choice for the lower jaw.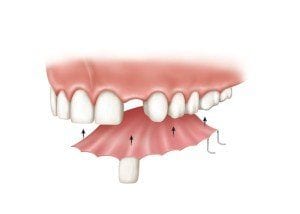 Flipper
A patient with a missing front tooth will sometimes select a flipper, a partial denture with a single tooth, as an affordable temporary solution to replace the tooth. Patients who are going through implant surgery will also use a flipper while the implant heals and before the tooth is reconstructed on top of the implant.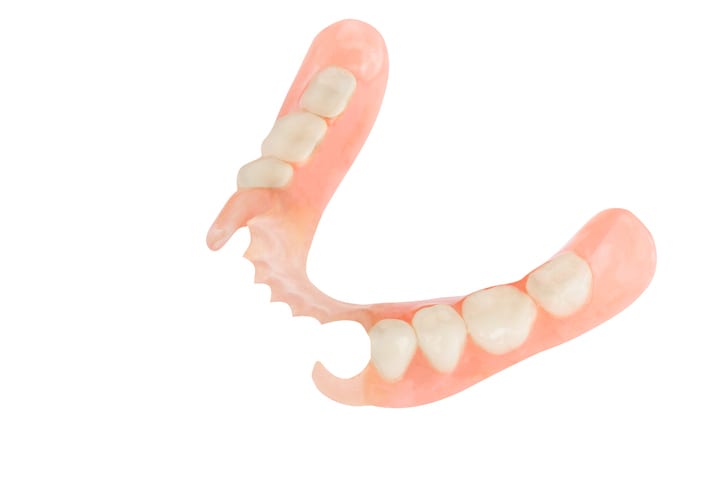 Flexible Partial
In many cases, patients find the best partial to be the flexible partial. Made with thermoplastic nylon, it has excellent elastic memory and outstanding aesthetic qualities. The resin is available in a number of shades to match the natural gum tissue, and it remains translucent after processing, with a simulation of natural blood vessels. This denture is guaranteed against breakage for life under normal wear and tear conditions.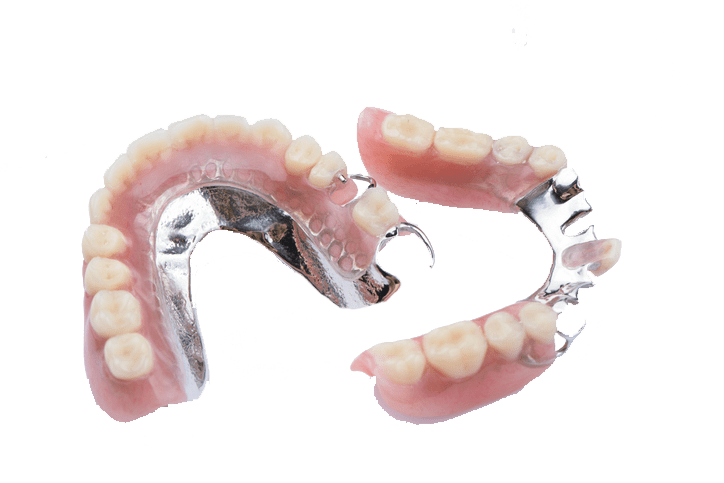 Metal Framework Partial
The partial denture is a more traditional denture. After impressions are taken, a metal frame is made and then the acrylic denture is added on top of this. Metal claps around a couple of your natural teeth to secure the denture to the top or bottom jaw.