Dental Implants
A dental implant is a permanent, artificial tooth root that is a foundation for a prosthetic crown. It can be a more effective and convenient alternative to bridges and dentures.
Dental implants are titanium screws that are surgically inserted into your jawbone. An implant is constructed of titanium, because the body does not perceive that substance as a foreign object. Over the course of several months, the bone heals around the implant, creating a strong foundation for your new tooth.
In addition to the screw, a dental implant has two components:
Abutment
This is a connector between the screw and crown.
Crown
The crown is the visible part of the tooth. It is made of natural-looking porcelain.
There are several types of implants available:
Single
One implant replaces a single tooth.
Multiple
Multiple implants are an option if you are missing several teeth. Implants are inserted to fill the gaps, leaving the other teeth undisturbed.
Bridged Implants
Implant-supported fixed bridgework is a lifelike upper and/or lower arch of false teeth that is virtually indistinguishable from natural teeth. It stays in your mouth all the time, unlike removable dentures.
There are numerous reasons why people
may choose a dental implant:
• Improved appearance
• More confidence.
• You'll be able to easily chew and eat.
• Easy to brush and floss
• Permanent option
If you have any questions, concerns, or would like to schedule an appointment, please contact us today.  We look forward to providing you with the personal care you deserve.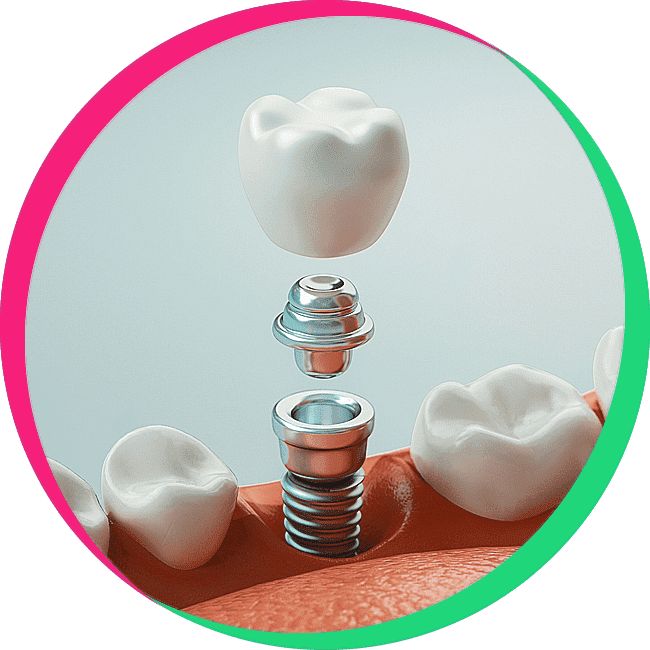 Need An Appointment? Why wait?
See a dentist within 48 hours